Sundance: Aaron Paul on Why He'll Never Be the Next Tom Cruise and Resurrecting Jesse Pinkman for AMC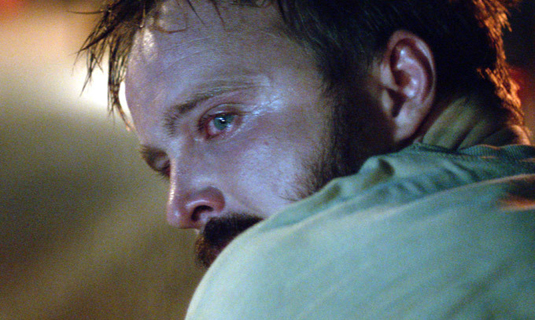 BY NIGEL M SMITH 
Aaron Paul is not Jesse Pinkman. Thanks to five trailblazing seasons on Breaking Bad, it's damn near impossible not to think of Paul as anyone else. But as he stressed to Indiewire in Park City, the deeply troubled Pinkman is his "opposite." The same goes for the alcoholic father he plays in Kat Candler's scorching directorial debut, HELLION, which premiered in competition here at the 2014 Sundance Film Festival late last week.
The film marks Paul's second to play at Sundance, following James Ponsoldt's SMASHED, which premiered two years ago at the fest. HELLION, based on Candler short of the same name, centers on motorcross-obsessed 13-year-old (stunning newcomer Josh Wiggins) and his tenuous relationship to his deeply troubled father (Paul). For those not in Park City, you can next catch Paul heading Dreamworks' blockbuster adaptation of the popular video game, NEED FOR SPEED (out wide March 14).
Indiewire sat down with the Emmy-winner in Park City to talk about his love for independent film, life post-Breaking Bad and why fame terrifies him.
SMASHED premiered at the Library two years back, the same theater where HELLION was just unveiled. What's it like to be back?
It's kind of surreal. When we did the SMASHED premiere, that's when they were doing the shorts premiere for HELLION. I didn't actually end up seeing it that year, but it's pretty cool to come back to Sundance. I love this festival – who doesn't? They promote independent filmmaking and that's where my heart is.
Both films are hard-hitting character studies. What draws you to this type of material?
Yeah, I love just going for it. I love diving into different skins, skins that make me feel deep emotions. Maybe that says something about what's going on in my insides – I don't know. But in reality, I'm so happy and everyone that knows me knows me as this fun loving guy who plays such intense characters. With Breaking Bad, it was very intense, but really funny in the beginning. Jesse was kind of like the comic relief for the beginning of the show, but then Saul Goodman took that lead. I always gravitate towards characters that are so opposite of me.
SMASHED marked James Ponsoldt's second film while HELLION is Candler's debut. What makes you take the leap with newcomers?
With HELLION, it was sent to me from all directions including James Ponsoldt [the director of SMASHED]. He said the script was phenomenal and that the filmmaker was a total sweetheart. James I just respect for so many reasons. That moved the project up to the top. I saw her short film HELLION and BLACK METAL which I thought were both fantastic and then I read the script. It was so beautifully honest. I love coming of age stories that have struggle.
Read more at Indiewire: Sundance: Aaron Paul on Why He'll Never Be the Next Tom Cruise and Resurrecting Jesse Pinkman for AMC