Elisabeth Moss on Her First True Sundance Experience and Saying Goodbye to 'Mad Men'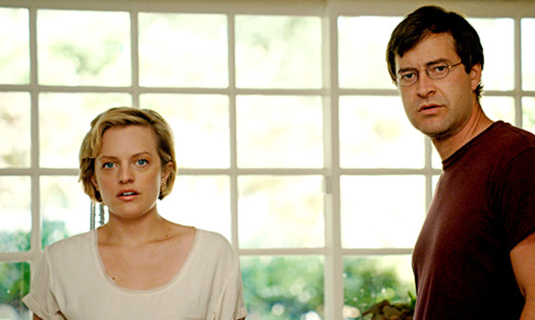 BY NIGEL M SMITH 
Only three weeks into 2014, Elisabeth Moss has already won a Golden Globe for TOP OF THE LAKE, world premiered two films at the Sundance Film Festival, and shot some scenes for the upcoming final season of  Mad Men. Talk about a great way to kick off the new year.
Moss, in Park City with Alex Ross Perry's acclaimed literary drama LISTEN UP PHILLIP and the high-concept relationship comedy THE ONE I LOVE, (just acquired by RADiUS-TWC) sat down with Indiewire on her last day of the fest to talk about the last few weeks, the experience of having two films in Sundance, and saying goodbye to Peggy Olson once "Mad Men" wraps shooting its seventh and final season in the next coming months.
You've had an amazing 2014 and we're still in January.
I feel like the rest of it's going to suck! [laughs] January's going to be amazing and the rest of the year's going to be downhill.
So what's this all been like? The Golden Globe win, two films at Sundance…
It's been surprising and I feel very lucky. I made these two films in my hiatus and I was really proud and happy to do both of them. And the fact that they both came to Sundance is a dream come true, because that's exactly what we wanted for the both of them.
And then the Golden Globe is extremely surprising. The fact it happened the week before Sundance, I was able to maybe help out the films with that. And just the fact that I was able to come to Sundance because I'm filming "Mad Men" right now… I had to get clearance to come here, which is impossible to do. So I just feel really fortunate… and tired. [laughs]
I first became familiar with you via "Mad Men," but you've been a working actress since the early '90s — most of your life! Do you feel like you've been working up to this point your entire career?
Yeah, I guess so. I do feel like I've been working for a long time. And I feel like I'm in a place I'm proud to be in. We're doing projects I'm proud of with people I like to work with. For me, I've always been a working actor (or a non working actor), so I still feel like that. I'm just happy to have a job! I'm still that person.
I've been acting for… I'm 31… wow, so 25 years. That sounds so stupid. [laughs]