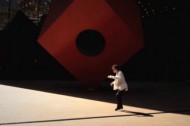 We scoured the pages of Kickstarter to bring you this week's best projects. Have a great Kickstarter project of your own or see one you think deserves some extra attention? Let us know about it the comments and we may just feature it in our weekly roundup.
FILM
GIRL WALK//ALL DAY: This Thursday, Kickstarter will premiere its first film, "Girl Walk//All Day," at the Brooklyn Masonic Temple. Described as a "music video of epic proportions" and set to infectious Girl Talk tunes, the film tells the story of a young ballerina who follows her heart to New York City. Admission is free, but you have to RSVP.
Mountain Dance Trail: For her forthcoming documentary, dancer Gerald Milnes plans to tap-dance her way through West Virginia's Route 33, hitting every square dance, hoedown and hootenanny she can find along the way.