Writers Guild of America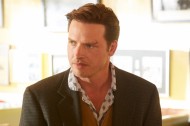 RECTIFY writer Kate Powers and series creator Ray McKinnon nabbed a nomination in the Episodic Drama category.
More organizations have come forward to voice their support for documentary filmmaker Joe Berlinger. The director was ordered by a judge earlier this month turn over 600-plus hours of footage shot for his film CRUDE to the oil giant Chevron, which hopes to use the footage to defend itself from the litigation efforts chronicled in the film. Berlinger's lawyers have argued that the filmmaker's material should be protected under journalistic privilege and that, by turning over the footage, he would be violating an understanding of confidentiality with his subjects.
Last week, as Berlinger sought to appeal the court's decision, the Writers Guild of America, East, threw its support behind the director, just as the Independent Documentary Association and 20 Oscar-winning directors had done before it. "To accede to such a demand is tantamount to a reporter being told to turn over all of his or her notes and to violate confidentiality agreements with sources," the Writers Guild wrote in an open letter. "As with the members of the IDA, our WGAE members working in the documentary field 'hold ourselves to the highest of journalistic standards in the writing, producing, and editing of our films.' Those standards include the protection of our outtakes, script drafts, research and sources."