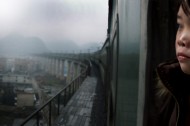 LAST TRAIN HOME (World Documentary Competition)
Anyone who has been paying attention to the remarkably fertile Chinese independent film scene this past decade knows that present-day China, given the sheer speed and scope of its transformations, is a wellspring of abundant contradictions, an endless source of stories and images for the observant filmmaker.
The title of Lixin Fan's directorial debut refers to the annual exodus of China's 130 million migrant workers from the cities to their mostly rural hometowns — this happens only once a year, for the Chinese New Year holidays. Fan evokes the mind-warping scale of this event — we see the anxious rush to secure tickets, thronged railways stations and trains — even as he zeroes in on the experiences of one family. The Zhangs left their young children and their farming village so they could work at a faraway garment factory. Now strangers to one another, parents and children (who were raised by their grandparents) struggle to communicate, and the gulf only widens when the teenage daughter decides to leave school and takes a job in the city.