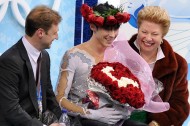 Me with my coaches Galina Zmievskaya and Viktor Petrenko. Photo by Saeed Khan/AFP/Getty Images.
In the season finale of BE GOOD JOHNNY WEIR, my fans and fans of my show will travel with me to the 2010 Winter Olympic Games in Vancouver, Canada. There is a lot of detail shown in the finale, but I thought I'd dish a little dirt about the Olympics, and this has nothing to do with the fact that condoms were officially supplied in the Olympic Village.
Read Johnny's personal and moving account of the joy and heartbreak he experienced in Vancouver.