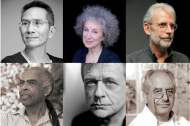 As the Rolex Mentor and Protégé Arts Initiative celebrated the achievements of its 2010/11 program at the NYPL this weekend, we eagerly awaited the announcement of who the next six mentors in dance, film, literature, music, theatre and art would be. And it comes as no surprise that they're all amazing and highly accomplished, precisely what the program looks for: true masters in their fields.
Dance: Lin Hwai-min (Taiwan)
Ever since he founded the Cloud Gate Dance Theatre of Taiwan in the '70s, Lin Hwai-min has been hailed as Asia's premier choreographer and a pioneer of contemporary dance. His choreography blends traditional theatre elements with Western dance techniques, creating an arresting style that prompted The New York Times to declare "Lin Hwai-min has succeeded brilliantly in fusing dance techniques and theatrical concepts from the East and West."
Film: Walter Murch (U.S.)
Acclaimed for his work as a sound mixer and editor on films like AMERICAN GRAFFITI, THE CONVERSATION, APOCALYPSE NOW and THE GODFATHER series, Walter Murch literally coined the term 'sound designer.' And who better to do so than the man who won an unprecedented double Oscar for both sound mixing and film editing for THE ENGLISH PATIENT?