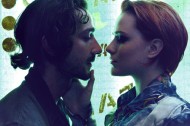 Today, we've got king of indie romance Richard Linklater's latest entry in probably the longest-running rom-com series in history, the inside story on Julian Assange, and, well, Shia Lebouf. We hear he's got some fans. All that and more below.
THE NECESSARY DEATH OF CHARLIE COUNTRYMAN 6:30P Eccles Theatre
Traveling abroad, Charlie Countryman falls for Gabi, a Romanian beauty whose unreachable heart has its origins in Nigel, her violent, charismatic ex. As the darkness of Gabi's past increasingly envelops him, Charlie resolves to win her heart, or die trying. Shia Lebouf and Evan Rachel Wood headline the cast.