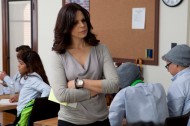 This episode starts on a low note. The grades are posted from the students' first test – and almost everyone's failed.
A moment later, Ellie says, "People said I was stupid… I started believing it. I started becoming it."
In Episode One, almost every kid in the school said they didn't study or that they didn't care – in effect striving for failure… to be the person that they think everyone thinks they are.
They were reaffirming themselves as stereotypical dropouts. Ironic as Soledad O'Brien, their teacher this week, immediately digs into the question of, what do people assume about you when they look at you? And then she asks, "who are you really?" – and the answers are diametrically different from the previous ones.