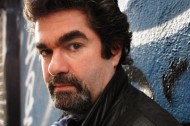 CRUDE director Joe Berlinger.
Earlier this month, when a judge ruled that documentary filmmaker Joe Berlinger was to turn over all 600-plus hours of footage he shot for his film CRUDE to the oil giant Chevron, which is seeking the footage to help the company defend itself from the litigation efforts depicted in the film, several of Berlinger's fellow directors immediately expressed dismay at the decision and support for their colleague.
"It makes me shudder to think that all that stuff would be turned over," documentarian Ric Burns (who produced THE CIVIL WAR (1990) with his brother Ken Burns) told the New York Times, "not because of any secrets that are revealed, but because of the killer blow to the trust a filmmaker cultivated, deeply, over a very long period of time."
Burns contended that the ruling, if upheld, could have long-term effects. "Next time, there won't be a CRUDE. There won't be a film," he said. "That'll be good for Chevron, I guess. Because the next time you go, you're going to have a much leerier group of informants."
Michael Moore (of FAHRENHEIT 9/11 and BOWLING FOR COLUMBINE) agreed. "The chilling effect of this is, someone like me, if something like this is upheld, the next whistle blower at the next corporation is going to think twice about showing me some documents if that information has to be turned over to the corporation that they're working for," Moore told the New York Times, suggesting that Berlinger resist turning over the footage "if he can." He added, "I think that he'll find that he'll have the support of hundreds of filmmakers who will back him in this."
While Moore has occasionally been accused of exaggerating for effect, in this case, his prediction proved to be spot-on.