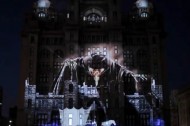 Luminous Flux from the macula on Vimeo.
"Video projection mapping" is a relatively new technique that has been gaining momentum in the art and advertising worlds for the past five years (did anyone else catch Ralph Lauren's crazy "4D" demonstration on Madison Ave last year?). In essence, the method uses specialized software to turn any possible surface into a video display, warping and masking the images to fit perfectly on anything you can think of. One of the main advantages of the technique is scale: with minimal resources, video mappers can turn anything into a giant, digital canvas.
One spectacular recent example is "Luminous Flux," projected last week on England's Liver Building for the opening of the New Museum of Liverpool.