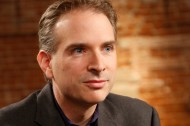 Los Angeles Bureau Chief of TV Guide Magazine Michael Schneider discusses The Walking Dead's success, the legacy of Smallville and the gap between TV and movie comic book adaptations.
Q: What's the biggest surprise that Robert Kirkman brought to the zombie genre with The Walking Dead?
A: That it could be done as an ongoing TV show. Many have tried, but no one has been able to figure out how to bring such humanity to the genre on television. That's a credit to Kirkman, as well as Frank Darabont, Glen Mazzara, Scott Gimple, Gale Anne Hurd, Greg Nicotero and everyone else involved.
Q: Do you think the series has pushed the envelope in terms of makeup and F/X on TV?
A: That's a testament to Greg Nicotero, the special effects master who has created such a distinctive look and world. Greg's zombies are icky, dripping, messy monsters that are a visual treat to see. And then can't unsee.