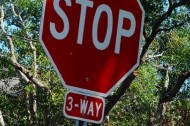 After more than a decade in the sex writing biz, we have seen our share of sexual gimmicks come and go, many of them vastly overrated. Below are the top ten sexual acts that, while they may be more substantial than gimmicks, continue to get more accolades than they deserve. Also, check out the Top 10 Most Underrated Sexual Acts — a.k.a. under-doggie-style — that we'll feature tomorrow.
Threeways. Too many elbows, too few orgasms. Also, there's the jealousy, the insecurity, and the awkward post-coital cuddling and/or brunch. 'Nuff said?
The 69 position. Kind of like communism: great in theory, not in practice.
Simultaneous orgasms. What is that saying, the great is the enemy of the good? Sure, the simultaneous O is awesome when it happens, but individual orgasms are pretty dandy, too. And sometimes, an alternating spotlight is a good idea — especially if that thing that pushes your partner over the edge requires a certain degree of concentration and/or skill.