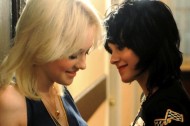 Okay, make that, the ten best movie sex scenes and/or kissing scenes of 2010. Things were a little prudish out there this year — you had to get your vicarious thrills where you could… and besides, we like to work with an all-inclusive definition of sex around these parts. Kissing counts too!
Get Him to the Greek: The awkward, let's-not-do-this-again threeway. Low on chemistry, high on reality factor, unlike most on-screen threeways these days (yes, we're talking to you, Gossip Girl). Oh yeah, and it's an M-M-F threesome…meaning, Russell Brand and Jonah Hill totally French.
Date Night: The sweet, married, sitting-side-by-side-in-a-diner-booth kiss. The one on the doorstep in broad daylight (hi, neighbor!) is not bad either. Hey, cheesy goes a long way after a decade or two of marriage. Let's hear it for monogamy!