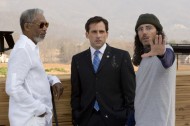 Tom Shadyac is the guy who directed Jim Carrey to talk with his butt and Eddie Murphy to wear a fat suit, to name just two of his enjoyable cinematic achievements, but today, Shadyac is focused on less guffaw-inducing issues.
After having a cycling accident in 2007, Shadyac realized certain things I never seem to realize in all my own biking mishaps: That the world is based on too much gratuitous spending, violence, and other negative actions. And that love and compassion are in our DNA and we need to exercise them more while achieving a deeper fulfillment.
His new documentary, I Am, is an exploration of what's wrong with the world and how each of us can make a step towards solving that. To get more personal instructions on the matter, I talked to Shadyac on the phone about it.