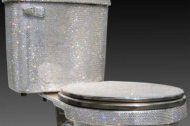 A Swarovski-studded toilet: this shit's gonna be good.
As any New Yorker knows, a good bathroom is hard to find. In the city, it's a downright precious commodity. Remember how in the "Seinfeld" reunion in the last season of "Curb Your Enthusiasm," George gets rich after creating an NYC bathroom finder app? Having that knowledge at your fingertips really is a million dollar idea. While running errands once near the MoMA, I made a slight detour into the museum where I used my membership only for access to one of their toilets. That's right, on this visit no art was viewed. I just had to pee.
Usually, hotels are the best bet and everyone knows Starbucks is the go-to city toilet, which is why there's almost always a long line. And with so much traffic they're barely a step up from the city ordained public bathrooms. No joke: the porta-potty's in Prospect Park are officially cleaner, better stocked and better smelling.
People who live in most other cities aren't confronted with this dilemma on an almost daily basis, but speaking as a New Yorker, I'm kind of really excited about America's Best Bathroom Award.