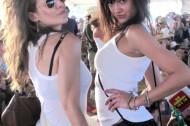 My sister and I at The Oakridge Boys
I spent this week in the bowels of humanity. No — literally! I toodled on out to Palm Springs for the Stagecoach country music festival — Coachella's redneck sister — with my pal Theano and my little sister Emily. And none too soon.
See, here's the deal with being single in NYC. You can find your physical type, and you can find your mental type — and never the two shall meet. Trust. I've tried. So, being a (physical) lover of very large manly men (and you try finding big manly guys who know how to fix a tire in NYC), I decided why not just wallow in a sea of my physical type and while I'm at it — get to see Merle Haggard, The Oakridge Boys, Sugarland, Brooks & Dunn, Toby Keith, and a whole lot of sweaty cowboys?