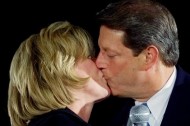 Really? The Gores? The couple most likely to make it to old age on a rocker-for-two on the front porch?!
Not the Clintons? We have to admit, it's a little refreshing to know that even such public marriages can have their secrets and mysteries.
We now feel truly bad about the number of times we made fun of the Gores' ew-Mom-and-Dad-are-kissing smooch at the 2000 Democratic Convention.