Tim Roth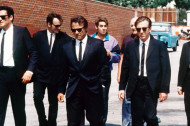 The gang includes a real-life criminal!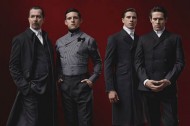 Miuccia Prada can be as self-effacing as she'd like, eschewing the title of artist in the debate as to whether or not fashion designers should be consider as such, but she cannot deny her natural instinct for drawing attention. She was a mime in her youth. Her runway shows have always been blockbusters with plenty of star power in the front row, but it seems La Signora Prada is blurring the lines between art and fashion once again in her latest Men's campaign for her Fall line, enlisting Gary Oldman, Garrett Hedlund, Jamie Bell and Willem Dafoe as mannequins for her designs. Like everything else she does, we can't help but chat about it.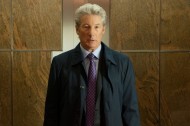 According to the Merriam-Webster Dictionary, "arbitrage" is "the nearly simultaneous purchase and sale of securities or foreign exchange in different markets in order to profit from price discrepancies." I don't really understand what that means, so I am providing an alternate definition for the intelligence impaired. ARBITRAGE is "a dramatic thriller set in the world of high finance that is also one of the most buzzed about titles at this year's Sundance Film Festival." That's a lot easier to understand, right? I think so. Let's give Mr. Merriam and Lord Webster or whoever it is a ring and tell them it's time to update that book.