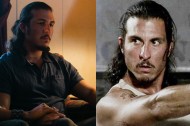 THE RED ROAD's Nick Gomez gives an inside scoop on co-stars Jason Momoa and Tom Sizemore and talks about his experiences and other hits like The Walking Dead, Dexter, and G.I. Joe: Retaliation.
SundanceTV: How did your role on THE RED ROAD come about? What were you told about your character?
NG: I got a call from my agent about THE RED ROAD, and I put together an audition tape for the casting. The scenes that I got to audition with were the actual scenes that I did for that first episode I'm in, where I'm trying to break into the garage. What's interesting is some characters just click and some don't… I've done a lot of very hardened sort of men, prisoners. I've played a lot of bad guys, so I'm usually hurting somebody… But as an actor you're always justifying what you're doing and this was the easiest one to justify because even though I was doing something illegal, I completely clicked with why he was doing it. I completely understood a father doing whatever he had to because his son was hurt, so I really wanted to play this role. I wanted to play a character that had some built-in sympathy.