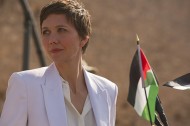 Zionist arms dealer Eli Stein is assassinated in front of his children Nessa and Ephra.
29 years later, Nessa Stein is running her father's company, having shifted its focus from weapons to communications in pursuit of the peace process. Nessa awards a contract to Palestinian Samir Meshal, who is promptly murdered.
Kasim, the young son of Atika, Ephra's nanny and mistress, is abducted.
MI6 spy Sir Hugh Hayden-Hoyle investigates Meshal's death.