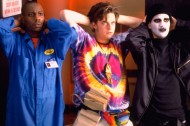 Stoners might never want to harsh the mellow, but stoner comedies tend to be rollicking adventures. In honor of Neal Brennan, host of SundanceTV's new series THE APPROVAL MATRIX and one of the minds behind Half Baked and Chappelle's Show, here are 10 highly-rated stoner movies that offer a nice cinematic buzz—and a few wild rides.
10. How High
This big screen vehicle for rappers Method Man and Redman has a premise that only makes sense if you're high — the pair get into Harvard after the ghost of their recently departed friend gives them the answers to the entrance exam. Oh, and they summon their friend's ghost after smoking his ashes. Good luck explaining the appeal of this one to a sober person. But for stoners, it's a comedic masterpiece.
9. Pineapple Express
Seth Rogen is an affable stoner process server who gets mixed up in a crime caper involving a particularly strong strain of Mary Jane. His rapport with James Franco's Saul, a laidback pothead dealer inspired by Brad Pitt's character from True Romance, puts this film squarely in the mold of classic buddy stoner comedies. Only with a lot more gunfire, of course.