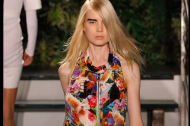 Fashion Week is well underway and Full Frontal Fashion is on the scene to bring you everything from the runway to behind-the-scenes looks at the pre-show madness as well as all the pretty faces who line up every year to watch the spectacle unfold.
See what Thakoon, Altuzarra, Monique Lhuillier, Alexander Wang and The Row are sending down the runway this season.
Fashion strikes on the runway and the front row at Alexander Wang.