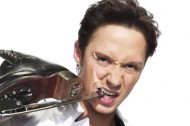 Johnny gets competitive. Image courtesy of NBC.
With Johnny performing his short program tomorrow and his free skate on Wednesday, Tom Hammond, Scott Hamilton and Sandra Bezic discuss the strength of the U.S. men's figure skaters. It's a loaded competition field for the men, where about nine skaters are believed to be contenders for the three top slots. Johnny is slated to perform in the 5th group, the 25th slot in 30. Don't miss his performance; check out local listings here.
Reigning Olympic champion and this year's favorite to win Evgeni Plushenko of Russia raises questions of bias in figure skating judging.
Also, with Plushenko's return from retirement (he left the sport after this gold win in Torino, was out of the sport for three years, then came back this season just to compete in the Olympics once again), other male figure skaters ask themselves: to quad or not to quad? While landing a quad can mean big points, not landing it can bring a bigger penalty than it's worth. Execution of the quad jump embodies not only high risk, but how the sport's new judging system, according to some critics, has favored technicality over artistry and expression.
Check out video of Johnny practicing the quad, his interview with both Wall Street Journal and HBO Real Sports, after the jump.