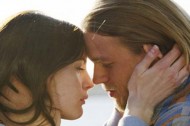 MATTHEW CHAPMAN'S CONTROVERSIAL THRILLER THE LEDGE
SNEAK PREVIEWS ONLINE AT SUNDANCENOW
Unique Release Continues Mission of Pioneering
New Distribution Methods to Reach the Widest Audience
New York City (May 6, 2011) – SundanceNOW, a new online destination to discover the best of independent film, announced today that the controversial Sundance thriller, THE LEDGE, is sneak previewing on SundanceNOW.com before it becomes available in theaters and On Demand marking the first time IFC Films has premiered a film online. THE LEDGE is a sexy, suspenseful, thriller that premiered at the 2011 Sundance Film Festival in the U.S. Dramatic Competition. It is directed and written by Matthew Chapman and stars Charlie Hunnam (SONS OF ANARCHY), Liv Tyler, Patrick Wilson, Terrence Howard, and Christopher Gorham (UGLY BETTY). The film is produced by Mark Damon and Michael Mailer. THE LEDGE premieres on Wednesday, May 11th at SundanceNOW.com.
THE LEDGE is available for $12.99 on SundanceNOW prior to its pre-theatrical video-on-demand launch on May 25 on cable, satellite and digital platforms. The film is then going to have a theatrical premiere on Friday, July 8.
Jonathan Sehring, President of Sundance Selects/IFC Films, said: "THE LEDGE is a provocative film with a shocking conclusion that will really get people talking. It is exactly the kind of film that will work well on multiple platforms and gives us a great opportunity to expand on our mission: bringing independent films to the widest audience possible, utilizing all the platforms available to us. We continue to believe that the audience for our films is best-served by bringing films to them via the electronic art-house circuit we have created and continue to innovate as well as via the traditional theatrical art-house."
"These days, there are many new and innovative ways to distribute a film, and new techniques are constantly evolving. IFC is at the forefront of cutting edge independent distribution, and we love that they are trying something new with THE LEDGE," says producer Mark Damon.
Adds director Matthew Chapman, "We sold the film to IFC Films because we knew they would help us reach the widest audience possible and this unique release strategy does just that. THE LEDGE is a film that is designed to get people talking and thinking and a sneak preview on the web is a great way to start the conversation."
One step can change a life forever in THE LEDGE. After embarking on a passionate affair with his evangelical neighbor's wife (Liv Tyler), Gavin ('Sons of Anarchy's' Hunnam) soon finds himself in a battle of wills that will have life or death consequences. Gavin, an atheist, is lured by his lover's husband ('Insidious' Wilson) to the ledge of a high rise and told he has one hour to make a choice between his life and the one he loves. Without faith in an afterlife, will he be able to make a decision? It's up to police officer Hollis (Howard) to save both their lives but the clock is ticking in this edge-of-your-seat film that will leave you gasping until the final frame.