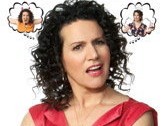 Long before Chelsea Handler was cutting down celebrities and Lisa Lampanelli was cutting down audience members, Susie Essman was at the front lines of female standup, being catty, neurotic, and totally funny.
She's earned her reward with the plum role of Susie Greene on the HBO kvetchfest Curb Your Enthusiasm, where she gets to use her instinctive comedy skills and her talent at loud-mouthed improv. And she's now got a best-selling book out called What Would Susie Say? which leaves the delightful impression that there's nothing she wouldn't say. (Check out the part about the boyfriend who'd make her applaud every time he went to the bathroom. You'll laugh, you'll cry.)
Having seen Susie around at various benefits and promotional events, I know exactly what's on her percolating New York Jewish mind these days. After doing her trademark line from the show ("You fat f—"), which has become a sort of nouveau version of Carol Burnett's Tarzan yell, Susie will tell you all about the male New York Jewish standup-turned-TV-star in her life–Larry David. Is he like his character? "Larry thinks those things," she swears, "but he would never actually do them." That's reassuring somehow. Would Larry ever submit to a Friars roast? "Never!" says Susie. "He's thin skinned!" Well, how about a Seinfeld reunion? "No way," she screeches, even louder. "What are they, The Brady Bunch?" No, The Brady Bunch was about something.