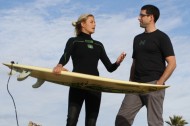 (L to R) Surfer Holly Beck and Josh Dorfman in The Lazy Surfer.
THE LAZY ENVIRONMENTALIST airs Tuesdays at 8PM E/P.
In Lazy Teenager, I'm trying to green Gabe, the "cool" kid at his high school who is class president and who a lot of other students respect and look up to. Like many teenagers, Gabe is into looking stylish, attracting the ladies, and communicating constantly through at least a couple of electronic devices. I know that if I can green what's important to him and get him to make more environmentally responsible choices, then through him I can influence his peer group to go green as well.
The power of kids to serve as role models for great causes and influence others is awesome. I've personally been involved with a couple of organizations that do an amazing job of supporting kids who want to make a difference in the world. But not only do they support them, they also honor them and help spread awareness of their achievements.