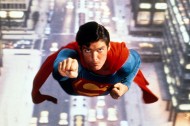 Comic book geeks are the toughest audience to please. Sure, they'll flock to any superhero movie (and often in costume) but change one detail of the beloved source material, and that's basically their kryptonite. Still, a select few comic book flicks qualify as nearly 100% nerd-approved. Take a look below to find out which made the cut. (Then tune in to THE WRITERS' ROOM for a celebration of small screen adaptations: "The Walking Dead, Smallville & other comics" on Fri., Apr. 25 at 9PM/8c.)
1. The Avengers – 97% Nerd-Approved
With Marvel's mega-blockbuster, writer-director Joss Whedon tapped into every superhero fan's inner 10-year-old. For those whose inner child is perpetually clutching an action figure wherever they go, a Hulk who didn't look like Shrek only sweetened the deal.
2. Captain America: The Winter Soldier – 99.98% Nerd-Approved

A near perfect adaptation of Ed Brubaker/Steve Epting's "Winter Soldier" comics storyline, this movie is so chock full of Marvel-ous Easter eggs – references to Doctor Strange and Crossbones among others — that it isn't just the latest comic book movie. It may also be the best.