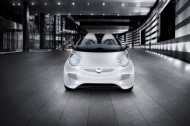 Going off-grid as economic necessity, quiet compostable chip bags, and green beer… your green tech finds for the week.
Green beer in the Last Frontier: Juneau-based Alaskan Brewing Company faces some relatively unique challenges and costs in making its beer… and has implemented some relatively unique green technology (for a craft brewer, anyway) to keep a lid on both economic and environmental costs. (via Utne Reader)
Adjust the thermostat with your phone: ecobee, the makers of the Smart Thermostat, now offer an Android app that allows you to remotely adjust your home's temperature.