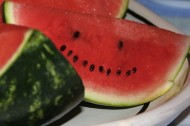 Yesterday we told you about the sex and love news from 2010 that most pissed us off and/or depressed us — dubious studies, dubious reporting, and rampant STDs, et al. Today we hope to put a smile back on your face with some of the love and sex news that most inspired us. You're welcome.
A kink study finds that the majority of men are open to fetishes once you get them behind closed doors. Just don't expect them to dish about it over Monday Night Football.
College gals finally close the marriage gap — new research shows that white women with college degrees are just as likely to marry as those who didn't graduate from college.
Okay, so yesterday we told you that the web is "luring" more women into porn addiction — but there's a silver lining. We finally have proof that women are visual creatures too!