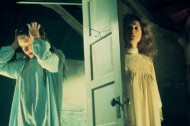 Film has never shied away from exploring the rich, complicated, and in some cases straight-up creepy connection between mother and child. While normal, lovely moms are all fine and good, some of the most fun moms to watch have been downright crazy–and all the more captivating because of it. In honor of Mother's Day (Sun., May 11) we've picked our five favorite frightening maternal figures. Don't neglect to send them a card on Mother's Day.
1. Margaret White, Carrie (1976)
Sure, the cool-kid clique at Carrie's high school do a number on the poor girl. But the groundwork of psychotic abuse already had been laid at home, where the shy girl's Christian fundamentalist mother consistently berates her for "sinning." A bucket of pig's blood might have been the straw that breaks the camel's back. But when Carrie rebels — and tears down her town in the process — its anger and resentment toward her mother that drives most of that rage.