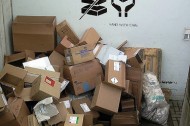 Energy to ice, and cardboard to energy… and much more. Here are your green tech finds for the week:
Nokia still tops in greener electronics: That's the word from Greenpeace, which released the latest update on its Guide to Greener Electronics. The Finnish company has stayed ensconced in that position; the biggest mover this time was Toshiba, which dropped from 3rd place to 14th. (via Fast Company)
Alabama airships: 21st Century Airships, a division of E-Green Technologies, will build its updated versions of the blimp (they prefer airships) in Alabama… so another win for the green jobs push. The vehicles can be used for transporting cargo and people very efficiently, and could even be employed by the military for high-altitude observation.