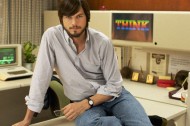 The 2013 Sundance Film Festival may be building towards its grand finale, but there's still one big premiere left to go – at least for anyone who carries around an iProduct. Don't forget that many earlier buzzworthy premieres are still playing throughout Park City and surrounds – now's your chance to catch up on anything you might have missed.
jOBS 6:15P Eccles Theatre
A little more than a year after the anniversary of Steve Jobs' death, Ashton Kutcher embodies the charismatic leader and co-founder of Apple Computer in Joshua Michael Stern's biopic. The true story of one of the greatest entrepreneurs in American history, jOBS chronicles the defining 30 years of Steve Jobs' life as he built Apple into the largest technology company in the world.