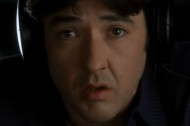 The lovable losers in Stephen Frears' HIGH FIDELITY waste their days sitting around the Chicago record store Championship Vinyl compiling Top 5 lists. Records to play on a Monday morning? Dream jobs? Songs about death? These elitist "experts" have got you covered.
As we prepare for Sundance Channel's premiere of Frears' relationship comedy — it airs Sunday, Dec. 2, at 10P, with encores throughout the month — we were inspired to create our own all-time, top 5, desert-island list of lovelorn, sad sack heroes of the heart. These guys have perfected the art of pining after the prettiest girls. In the best-case scenarios, they even win that girl's heart.
And yes, we double-dipped on Cusack, because few in Hollywood are quite as masterful at the hangdog look of the broken-hearted, unfulfilled Romeo. It's his calling card … as HIGH FIDELITY confirms.