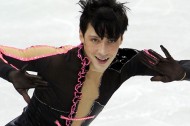 Johnny rocks the tassle in the men's figure skating short program on day 5 of the Vancouver 2010 Winter Olympics at the Pacific Coliseum on February 16, 2010. Photo by Matthew Stockman/Getty Images.
Scoring 82.10 for his short program (view here), Johnny is current in 6th place. Tonight, he skates second to last…right before Russian rockstar and defending gold Olympic medalist Evgeni Plushenko.
Despite having skated a clean short program, Johnny knows he's not the favorite, at least not by commentators and judges. Even NBC's coverage of the games couldn't make that more clear; they produced two interstitial pieces featuring Evan Lysacek and Jeremy Abbott…but there wasn't one featuring Johnny. With the top three competitors (Plushenko in first, Lysacek in second, and Daisuke Takahashi of Japan in third) only several tenths of a point away from each other, his nearly nine point difference from Plushenko's 90.85 seems impossible to beat.