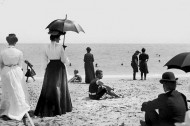 In a busy world, it can be tough to make time to find a partner. That's why some genius invented speed dating, and some people are really pushing the limits when it comes to creativity in that department. Goodbye gongs, hello rare culinary ingredients. This is speed dating for the 21st century.
10. Edwardian-themed Football Speed Dating
Say that ten times fast, and pick a suitable pseudonym so you can prepare to play table football with a random mate, all while living in the Golden Age (without the hideously restrictive bathing suits). Beware: Small talk is strictly banned, but at least you can work out nerves with your competitive streak.