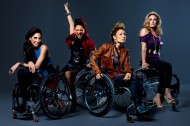 HIGHLY ANTICIPATED NEW DOCU-SERIES PUSH GIRLS
SET TO PREMIERE TUESDAY, JUNE 5TH ON SUNDANCE CHANNEL
Channel offers a "Sneak Peek" at series on April 17th at 10 pm et/pt
Sundance Channel will offer viewers an unfettered, uncensored glimpse at what it means to be sexy, ambitious and living with paralysis in Hollywood, with the highly anticipated docu-series, PUSH GIRLS, set to premiere on Tuesday, June 5th at 10 PM. The 14-part series traces the lives of four dynamic, outspoken and beautiful women who, by accident or illness, have been paralyzed from the neck or the waist down. From executive producer Gay Rosenthal (Little People, Big World, Ruby), PUSH GIRLS captures the daily challenges and personal triumphs of these women, and will shatter all expectations of what life in a wheelchair can be.