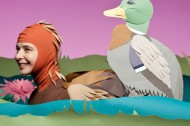 Isabella Rossellini gets down and ducky with animal mating rituals in the all-new SEDUCE ME.
We're thrilled to announce that SEDUCE ME, a new five-part original series directed, written by and starring Isabella Rossellini has launched! For those of you who loved the web sensation GREEN PORNO, Isabella is back with a new set of films that explore the unconventional seduction rituals of creatures ranging from bedbugs to cuttle fish. In describing her new series, Isabella Rossellini says, "After my comical series, GREEN PORNO, on how animals mate, I wanted to showcase a new series about how animals seduce each other with different, varied and incredible strategies…they might give us some new ideas about how to conquer our mates!"
Check out the teaser video, after the jump.