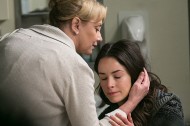 In a death row flashback, Daniel receives a brochure of DOC mental illness guidelines. He angrily recites "proper prisoner behavior" as he hurls and shreds his books.
In Daniel's hospital room, Janet remarks how friendly the hospital staff is. Amantha reminds her they're not in Paulie, where everyone wants Daniel dead.
At the Talbot residence, Teddy proposes a plan to increase the tire shop's declining revenue by renting out tire rims. Ted Sr. balks at the upfront investment costs. Teddy then brings up the elephant in the room: What will they do if Daniel becomes a vegetable?