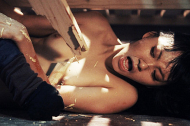 Halloween is just around the corner, and if you don't have your costume ready yet let us inspire you with a line up of seriously scary movies. Seriously. I mean it. Like if you really wanted to dress up as some of the characters in these movies you could probably just pour of bucket of fake blood over your head and call it a night. Or, if you're like me and prefer to leave the gore onscreen, there's no better way to drown out the sound of your doorbell ringing and scare away the trick-or-treaters on the other side by tuning into Sundance Channel and turning the volume wayyyy up.
Don't know what to watch first? Allow me to break it down quick and dirty:
POSSESSION OF DAVID O'REILLY: Scary-as-hell supernatural demons in a "shockumentary" that will haunt your dreams.
COFFIN ROCK: Go ahead, sleep with your stalker, psychopathic neighbor. What's the worse that could happen?…