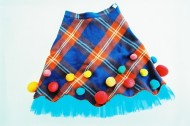 While in Iceland a few weeks back I was charmed by the fashions. They were quirky and a little offbeat. I tracked down two of my favorite designers there and asked them a few questions. Read below for more:
Sigríður Ásta Árnadóttir
Describe your design philosphy in three words?
Recycle, redye, reuse
Who wears your creations?
I guess you must have a sense of humor … but also a nostalgic inclination.