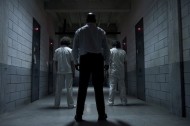 The world of film is changing. For one thing, there's not much actual film anymore. The future is digital; more and more, it's streaming on our computers, too. Every week in Legal Download, we survey the landscape of online movies to bring you a snapshot of what's available. This week we get nuts with movies set in mental hospitals.
THIS WEEK'S THEME: Mental Hospitals
For most of us, mental hospitals, psychiatric wards, and insane asylums, are places we only know from movies. Lucky us. If real mental hospitals are anything like the ones in movie then a) our health care system is in worse trouble than I already thought and b) they're places not just for the insane, they're places that make you insane. You may go in accidentally, or for a job, or undercover, but those kinds of plans always end up backfiring on the characters who hatch them. On a side note, there's a lot of memorable movies set in mental hospitals you won't find in this week's Legal Download — classic potboilers like Sam Fuller's SHOCK CORRIDOR, empathetic John Hughesian teen dramedies like IT'S KIND OF A FUNNY STORY and more — simply because they're not yet available on VOD or streaming. Don't worry, though; there's enough memorable ones here to keep you from going psycho.