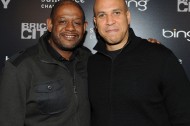 Forest Whitaker and Newark Mayor Cory Booker (Photo Credit: Michael Buckner/Getty Images). For more images from this party, check out the photo gallery.
Newark Mayor Cory Booker was "in the house" on Sunday, which is how he was introduced at a screening of the documentary series BRICK CITY, whose second season premieres next Sunday on Sundance Channel.
Wearing jeans, hiking shoes, and a black zipper-neck sweater, Booker was in non-politician mode as he spoke with the show's executive producer Forest Whittaker, and co-directors Marc Levin and Mark Benjamin in front of a small audience gathered at the Bing Bar on Main Street. Also in the house: Isabella Rossellini and Rosie O'Donnell, who before the screening was posing with a small rescue dog wrapped up in a snow-suit. "It's going to be a photo spread, me and my puppy," O'Donnell joked.
This season of BRICK CITY, which feels like a docu-version of The Wire, focuses more singularly on Booker as he fights for re-election, and faces severe budget-cuts, a rising crime rate, and a faith-losing constituency.
The year "was a battle for him," Benjamin said of Booker. "Because every incumbent in America is suffering a lot of pushback because of government and dwindling funds and resources for everything… It's been a tough year for him."