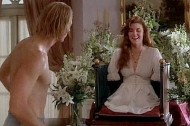 We were going to do a top ten list but there are so many disturbing movies made about sex, we had to bump it up to 20. Let us know if there are any others you think should have made the cut.
Irreversible: If you can get through the first ten minutes of hard-core sex and violence at the gay club (subtly called "Rectum") in this brutal movie about rape and revenge, then you've got a stronger constitution than we do.
Breaking the Waves: The simple-minded wife of a newly disabled man misinterprets his desire for her to find the pleasure he can no longer deliver elsewhere and engages in riskier and riskier behavior until she (spoiler alert) ends up killed via gang bang. The feel good movie of 1996!