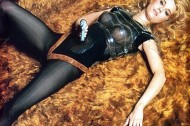 Sex in space? Maybe. But scientists still aren't sure that reproduction works in the microgravity of space.
Economists say adult circumcision is not the most cost-effective anti-HIV tactic.
Study finds that moderate exercise makes middle-aged women feel better about themselves, while intense work-outs make them feel like shit.
New York considers Medicaid for transgender surgeries.
The rape definition in federal crime statistics is too narrow, critics, say.