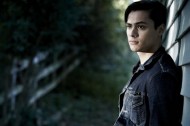 Actor Kiowa Gordon (THE RED ROAD's Junior) talks about his role in the Twilight franchise and his potential future as a pop singer.
Q: Your first movie role was in such a hugely popular franchise. Was all the attention around Twilight surreal? How did you deal with it?
A: Oh yeah, I was an 18 year old kid fresh out of high school. I just dealt with it one day at a time. I tried to stay close to old friends and family to keep me from going insane.
Q: You're a member of the Hualapai Nation in Arizona. Can you talk about your connection to the tribe & where you grew up?