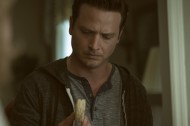 Aden Young, who plays Daniel Holden on RECTIFY, talks about the complexities of his character, the most unusual scene he shot in Season 1, his own teenage hobbies (hint: it's not BMX riding), and working opposite Clayne Crawford (Ted Jr.).
Q: You grew up in Australia. Are there any similarities between Australian culture and Southern culture?
A: I was born in Canada and my father is from Missouri and my mother is from Australia and when I was about 9 we moved out to Australia. But there always was within me this mystery land where my father was from that I wanted to explore, and that was especially true when he passed away… it was perfect for me to come to play a Southerner in his home town, but a Southerner who has of course been locked away from that town for many years. So what was being revealed to me as an Australian was similar in the experience that Daniel might have had in coming out of prison.
Q: It must be a mixed bag getting recognized from the show. Do fans expect you to be as eccentric as Daniel?