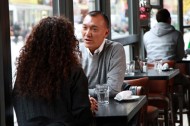 I will admit that I am feeling extra sentimental lately. Yes, because ALL ON THE LINE wrapped its first season but it's also most likely because I spoke at the commencement ceremonies of the Fashion Institute of Technology, my alma mater, recently. At the graduation festivities I concluded with the turning of the tassels and my parting words of inspiration, motivation and passion. Or at least I hope I did. I told the class of 2011, this was not the end of school. No, in fact, the learning will continue — for the rest of their lives. And I'm speaking from experience. Life education doesn't end when the instructors have packed their papers and gone home. No, instead, their methods and reasoning will hopefully live on in everything you do. I wasn't inspired by every instructor I ever had, but the ones that did affect me, stayed with me.
And in some ways, my personal success is a testament to them.
Cut to the AOTL designers.