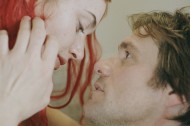 If love were easy, romantic films wouldn't exist. In the movies, the quest for love is like trying to swim across a wide, piranha-filled river while arrows are shot at you from all sides. And in the end, whether we win love or lose love, we learn from it. These ten films preach the gospel of perseverance, no matter what the treasure chest of romance ultimately holds.
1.Hannah and Her Sisters (Woody Allen, 1986)
Thanksgiving parties bookend two years of romance, adultery, betrayal, alcoholism, religious mania and hypochondria among a group of erratic New Yorkers. Lesson learned: Love is better when you accept that it is very unpredictable. Also, New Yorkers can be quite neurotic.