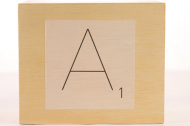 Click through for more photos.
Word addicts and font junkies unite and rejoice in Andrew Capener's beautiful redesign of Scrabble. While some classics are best left untouched, Hasbro, the makers of Scrabble, aren't exactly known for their keen visual sensibility or their commitment to craftsmanship. Case in point: my super deluxe anniversary Scrabble edition is a hulking, plastic, maroon monstrosity that resides in a box reinforced by duct tape on all four corners.
Capener's much improved version is made form birch and solid walnut lined with cork to prevent any chips or dings. The set comes in a cube-shaped box with six board pieces that slide out like drawers. The board pieces are magnetized and snap together to form a minimal, two-color game board. The most exciting part is the typeface, which is entirely customizable. Choose your own font or opt for a grab bag of fonts old and new, serif and sans, plain and bold – and let the games begin.