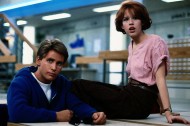 Ditching school. Cutting class. Playing hooky. If you're gonna do it, make sure you have a darned good reason and a damned good excuse. In honor of the announcement for season 2 of DREAM SCHOOL, here are some favorites.
1. We were forced to do drugs – 21 Jump Street
Jonah Hill and Channing Tatum as Schmidt and Jenko
The key to being a good narc—which these two bozos are not—is actually attending class. But when duty calls, the fellas skip out to meet their drug connection in the yearbook office, sample the goods and hustle to the bathroom to "help" each other try to puke. Maybe cutting class isn't such a good idea.